Introducing Venus Versa - The Most Advanced Non-Surgical Anti-Ageing Treatments
At The Skin Clinic At Urban Spa Beauty Salon In Bishop's Stortford, Hertfordshire, October 2020
We all have certain things we don't like about ourselves, but what if we told you that here at The Skin Clinic at Urban Spa Beauty Salon in Bishop's Stortford we could erase those so-called 'flaws'? Let us introduce you to the latest Venus Versa technology which is delivering incredible results for clients.
Venus Versa uses three advanced technologies to target different problem areas including fine lines and wrinkles, acne, light scarring, skin pigmentation, cellulite, stretch marks, saggy skin and hair removal.
The most popular treatment is Venus Versa TriBella which has attracted a big following amongst celebrities who want perfect, radiant, younger-looking skin. Just one TriBella session can significantly improve the appearance of fine lines, wrinkles, and saggy skin.
Venus Versa treatments are non-invasive, with little or no downtime. This is the most advanced technology around which uses:
1. Intense Pulsed Light (IPL) to improve the appearance of skin pigmentation, also known as brown spots, sun spots or age spots. IPL is also used for hair removal and acne treatments.
2. NanoFractional Radio Frequency to correct signs of skin damage. This includes improving the appearance of acne scars, stretch marks, rosacea, enlarged pores, deep wrinkles and uneven skin texture and pigmentation.
3. Multi-Polar Radio Frequency and Pulse Electro Magnetic Field technology to tighten the skin, contour the body and reduce cellulite. This technology heats the deeper layer of tissue under the skin, boosting collagen production which leads to smoother and firmer skin.
The Benefits Of Venus Versa Treatments
With Venus Versa we are able to bring you the most technologically advanced treatments to help with skin pigmentation, skin tightening, fine lines & wrinkles, enlarged pores, scarring, skin conditions, stretch marks and IPL hair removal.
But why choose Venus Versa above other IPL or Radio Frequency methods?
Treatments are faster and more efficient - we can treat much larger areas at any one time using Venus Versa
Treatments are more comfortable than other laser treatments as Venus Versa features an innovative cooling system.
There is no downtime for treatments (other than skin resurfacing when clients usually wait 24 hours after the procedure before returning to their daily skincare routine)
The Venus Versa technology has been tried, tested and proven to work.
What Are TriBella Facial Rejuvenation Treatments?
TriBella is a facial rejuvenation treatment that simultaneously enhances skin tone, tightness, elasticity and texture. quickly and effectively. Using the three Venus Versa technologies, we can:
tighten saggy skin such as the jowls
improve skin pigmentation, fading dark spots, vascular and pigmented lesions
even out skin texture
reduce the appearance of fine lines and wrinkles
improve skin elasticity.
Best results are usually seen approximately three months after the third treatment session, and most people continue to have maintenance treatments every 4-6 months. Let's look at these anti-ageing treatments in more detail...
Advanced Anti-Ageing Treatments At Bishop's Stortford's Top Skin Clinic
Venus Versa skin resurfacing and rejuvenation treatments combine two cutting-edge technologies which work together to treat multiple ageing skin concerns at once.
NanoFractional RF technology uses tiny pins that safely deliver heat through the skin's surface, while the SmartScan technology creates a unique pin pattern that's best suited to target your concerns.
The body works to repair these tiny 'wounds' producing collagen and elastin which help to repair skin pigmentation and give you smoother, healthier skin.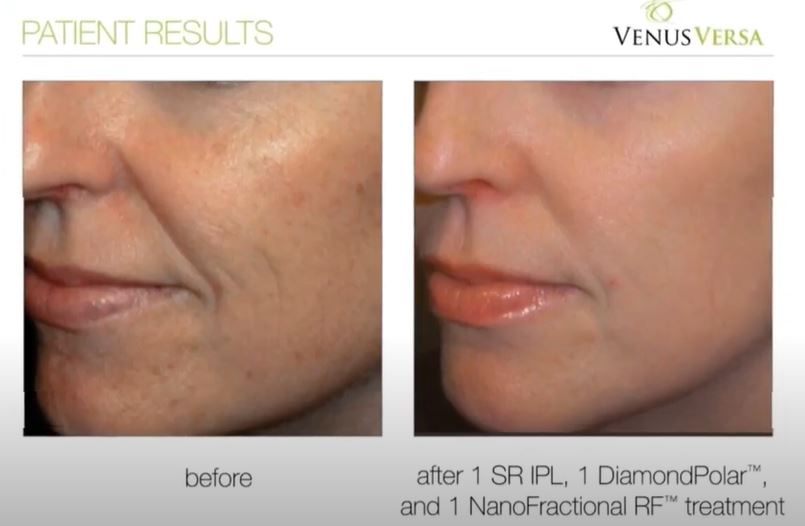 Wrinkle Reduction At The Skin Clinic At Urban Spa Salon In Hertfordshire
Wrinkles and fine lines are among the first signs of ageing. If they are causing you concern, please book in for a complimentary consultation so we can recommend the right treatment for your skin type and issue.
One option we can highly recommend is using a combination of Radio Frequency and Pulsed Electro Magnetic Fields with the latest Venus Versa technology. These deliver heat or energy into the skin which stimulates collagen production and elastin fibres.
The collagen plumps up the skin, helping to reduce fine lines and wrinkles, while the elastin provides a more youthful elasticity.
Skin Tightening & Fat Reduction With Venus Versa In Hampshire
You can now tighten and sculpt your body using Venus Versa. Uniquely combined energies are used to produce heat under the skin's surface. This heat then stimulates tissue to increase collagen and elastin fibres and shrink local fat cells, reduce cellulite, tighten sagging skin and improve the appearance of wrinkles.
These treatments are effective on multiple areas of the body including tightening sagging jowls , 'bingo-wing' arms and reducing fat around stubborn areas including the stomach and 'love handles'.
Hair Removal Using Venus Versa IPL
Venus Versa can also be used for hair removal or permanent hair reduction. It uses Intense Pulsed Light (IPL) which is delivered into the hair shaft at the root or follicle to permanently reduce unwanted hair. The Venus Versa can target much larger areas and uses a cooling system to ensure you remain comfortable throughout your treatment.
A course of 6-10 hair removal treatments is recommended, which are carried out 4-8 weeks apart depending on the body part you wish to treat.
Improve Acne With Venus Versa Red & Blue Light Treatments
Do you suffer from acne? Nowadays, even those with perfect skin are having breakouts due to the frequent wearing of masks and facial coverings which are wreaking havoc on our skin. Many people are reporting bouts of acne as sweat builds up behind the mask, blocking the pores which can lead to pimples and acne cysts. It is essential we continue to wear our masks, but what can we do to help improve acne and this so-called MaskAcne?
Venus Versa treatments can help tackle acne. The Intense Pulsed Light (IPL) treats the underlying cause as well as the visible symptoms of acne. IPL combines blue and red light delivered simultaneously to the problem area. The blue light destroys acne-causing bacteria, while the longer wavelength of the red light reduces existing acne-related inflammation which promotes faster healing.
Each treatment takes 15-30 minutes and consists of a course of 8-10 treatments which can be given 3-4 days apart. The end result will leave you with clearer, healthier skin!
Venus Versa FAQs